Team Members
Brandon Gerber takes client satisfaction very seriously. So do his team members. Together, they are committed to providing an exceptional client experience for every single one of their clients.
If you need to schedule an appointment, please call Hillary at (260)543-4076.
If you need to contact Clayton Tonner, please call him at (260)273-8107 or email him at clayton.tonner@nm.com.
If you need to contact Tyler Greathouse, please call him at (812)374-2120 or email him at tyler.greathouse@nm.com
We look forward to hearing from you soon!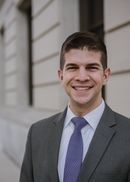 Clayton Tonner
Director of Operations and Client Service
Clayton joined Brandon's team in August of 2015 after receiving a BS Information Technology degree from Purdue University (IPFW, Fort Wayne campus).
As an Associate Financial Representative, he specializes in helping clients easily work and communicate with Brandon's team. Clayton utilizes both phone and email communication, and helps clients conveniently complete all necessary paperwork. He proactively handles all insurance applications, beneficiary change forms, and any other questions clients have regarding their accounts.
He is also very talented with technology to ensure systems and processes are established, followed, and optimized for Brandon's team.
Let Clayton know if you have any questions as he would be happy to assist you!